A traditional Christmas Eve
Christmas Eve, a day of serious traditions. Starting of with everybody gathering in fron
t of the television, to watch "Donald Duck´s Christmas Eve", a show with bits and pieces from some of the most famous Disney movies. A must do on Christmas eve! Glühwein, lussekatter (sweet buns with saffron) and gingerbread  was served, getting everybody into the spirit of Christmas!
During the show, a few of us sneaked out into the kitchen, to prepare the "julbord", a traditional Christmas buffet consisting mainly of; different pickled herrings, smoked salmon, eggs, vegetables, liver sausage, smoked sausage, "Janssons frestelse" ( potato casserole with anchovies), Christmas ham, meatballs, cabbage, bread and cheese.
As the television show finished and the buffet was prepared, we all found our seats at the table, took our plates and filled them with delicious food. It is of vital importance that you take at least two servings, one with cold food as an entrée, and one with warm food as a main course. When everybody was seated at the table, we sang "Hej tomtegubbar" (Hi Santas) and cheered with Christmas beer (a dark sweetened ale) and snaps.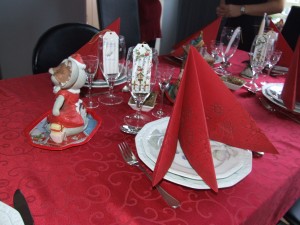 After enjoying our food, we tidied up in the kitchen and gathered by the Christmas tree, waiting for Santa to come. After what the children considered a long time, Santa arrived and we all received our presents. A joyful moment for both children and adults, due to the act of giving!
The traditional desert "ris a la malta" (rice pudding blended with whipped cream) with strawberry sauce  was served, followed by wine and chocolate, nuts and fruit. Relaxing and enjoying each others company!
Thank you for a wonderful Christmas Eve!