Ett hus så ensamt!
Vi hittade detta hus en dag. Det var sommar, solen lyste, träd och växter stod i full blom. Det var där, på andra sidan av det klot vi kallar jorden, i Canterbury, Australien. Efter en lunch i kärnan av byn, tog vi en promenad längs med smågatorna. Vi tittade på husen, på all snickarglädje, på träd och växter. Så mycket hantverk och så mycket grönska, i en härlig kombination. En kombination, en bild, som letar sig in i ditt inre och tar fram din glädje. Din lycka!
Det var då vi såg det. Så övergivet! Så ensamt! Men ändå så vackert, med en historisk charm. Ett hus som speglar det som en gång varit. Ett hem som brukade vara någons, ett hem beklätt med trä, gömd bakom all grönska. Frågor kring huset väcktes till liv inom oss. När är det byggt och av vem?  Vilka har bott i det? Varför står det ensamt kvar? Varför bryr sig ingen om det? Varför låter någon huset förfalla, vittra bort, tills ingenting längre finns kvar. Huset som en gång var någons hem! Ett hem fyllt av kärlek och glädje. Med en doft av nybakade bullar och rentvättade kläder. Med röster från glada barn och vuxna som försöker göra sig hörda genom barnens skratt. Med golv som knarrar när någon rör sig genom huset, väggar som vibrerar när en dörr slås igen. Fönster som öppnas för att släppa in nytt syre. Så att någon kan få frisk luft. Någon som en gång bott i detta hus. Detta hus som nu är fyllt av ensamhet.
Vi började drömma om att köpa det, renovera det på ett sätt så att det gamla får bestå. Husets historiska känsla får finnas kvar. Med all snickarglädje, med all charm! Men det är ju inte där vi bor, där på andra sidan av jordklotet. Vem vet, kanske är vi inte ensamma om att känna för huset. Kanske är det någon annan som tar det under sina vingar?!
Nästa gång vi besöker Australien blir det en tur till Canterbury, till hörnet där ett hus så ensamt stod. Vi hoppas att vi får se det där, ett gammalt hus i nytt skick. Ett hus som blomstrar lika mycket som den växtlighet det omges av.
::::::::::::::::::::::::::::::::::::::::::::::::::::::::::::::::::::::::::::::::::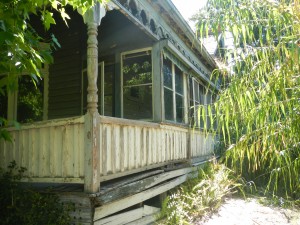 ::::::::::::::::::::::::::::::::::::::::::::::::::::::::::::::::::::::::::::::::::::::::
We found this house one day. It was summer, the sun was shining, trees and plants were blooming. It was there, on the other side of the globe we call Earth, in Canterbury, Australia. After a lunch in the center of the town, we took a walk along the streets. We were looking at the houses with all their carved woodwork, on the trees and the flowers. So much handcraft and so much greenery, in a breathtaking combination. A combination, a picture, that will find its way to your soul, to your happiness and joy.
It was then we saw it. So abandoned! So lonely! But still so beautiful, with an historical charm. A mirror of what once was. A home that once belonged to someone, a home clad in wood, hidden behind the greeneries. Questions about the house awoke inside us. When was it built and by whom? Who has lived in it? Why is it standing alone? Why doesn't anyone care for it? Why does someone let the house fall apart, wither away until nothing is left. A house that once was someone's home! A home filled with love and happiness. With an aroma of baked bread and freshly washed clothes. With voices from happy children and grownups who are trying to make themselves heard through the laughter of the children. With floorboards that are squeaking when someone is moving through the house, walls that are vibrating when a door in being shut. Windows that are opened, opened by someone to let in fresh air. Someone who once lived in this house. This house which is now filled with loneliness.
We started dreaming about buying it, renovating it in such a way that the old will still be present. The historical feeling will remain. With all its carved woodwork, with all its charm! But we don't live overthere, on the other side of the Earth. Who knows, maybe someone else will feel strongly for the house, take it under their care?!
Next time we return to Australia, we will visit Canterbury. Visit that corner where a house was standing alone. We hope that we get to see a house there, an old house in renewed shape. A house that is blooming as much as the greeneries surrounding it.
<a href="http://www.bloglovin.com/blog/7596229/?claim=5m8fdgg3u9m">Follow my blog with Bloglovin</a>